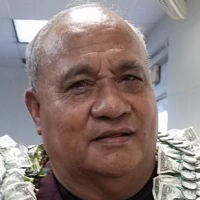 Rev. Joe Hunkin, CEO/Lead Pastor
Rev. Joe Hunkin Jr was born October 16th 1949 in a South Pacific Island on the U.S. Territory of American Samoa. He spent most of his teenage life growing up both in American Samoa and in the State of Hawaii. While growing up, he had a passion for the United States Military. The United States Army was his main interest before God. In 1973, he enlisted in the U.S. Army and served in many locations to include Korea, Germany, U.S. Mainland, Hawaii and various places around the world. According to Reverend Hunkin, "There were many opportunities for him to teach and preach in the different military bases worldwide where God had used him. Things were not going towards the way he had planned for". But in 1983 and while still serving in the military, the Lord called him into his ministry. Rev Joe Hunkin said that if it weren't for Jesus he would have been deceased by now. Reverend Joe Hunkin Jr served in the U.S. Army for 26 years and retired as a First Sergeant. In September 1999, He retired with honors from the U.S. Army. His last duty station was Schofield Barracks Hawaii.
In September 1997, Reverend Joe Hunkin was appointed by God to assume the duties and pastoring the Lighthouse Outreach Center church. Reverend Joe Hunkin is married to his beautiful wife Vaitapu. They have a beautiful Daughter name Hannah and a son name Headrick and their daughter in-law Glory and their son in-law Tui. They have a lovely grandson name Josiah and granddaughter name Talithakoum.
The following is a quotation from Reverend Joe Hunkin Jr. In his own words.
"My life in the past was so messed up that I could have been killed by now. Pride was my very best friend. I wanted people to know who "JOE" was. The man that I was then was not the same as the man that I am now. If I walked into any church in Hawaii, I would hear statements such as: "Is that the Joe that I knew back then…", "Is that the prideful brother back then…" and "I wonder if he still has the same angry attitude…"
People knew me from the top of my head to the soles of my feet. But I thank God that he knew more about me then they did. He not only knew me but he saved me too. Thank you Jesus. I am now a living testimony in the Pacific Islands, especially in Hawaii.
You are more than welcome to come and hear more of my testimony by attending one of our Sunday services that is on our schedule. You'll be surprised of how God can use the most foolish, stupid thing in the face of this earth to become a minister. The church is growing from 150 to 400+ since September 1999. To God be the glory because "It's All For The Lord". I invite you to come and be one of my honorable guests in one of our services listed in our calendar.