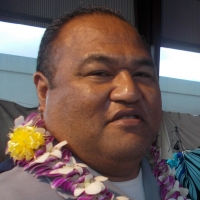 Pastor Headrick Hunkin, Senior Pastor
I am Senior Pastor Headrick Hunkin married to Glory Hunkin. I have a son name Josiah who is 14 yrs old.
It has been a great journey thus far aftering taking over the responsibility of pastoring the Lighthouse Outreach Center AG since July of 2015. My Dad, Presbyter Joe Hunkin who is also the founder with my Mom, First Lady Vai Hunkin have already set the foundation of the Lighhtouse ministry. I am just coming in with the help of my wife and son in being good stewards to the work of the Lord.
I am proud to work with great men and women of the faith especially my family in heart, the church members of the Lighthouse Outreach Center. I have a passion for the young people and I love to teach them about the word of God in their level and language.